Promotions & Deals in Hanmer Springs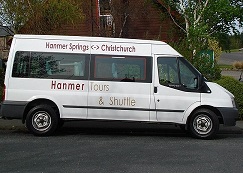 Same Day Return
Price: $50
A same day return trip from Hanmer Springs to Christchurch.

Depart on our 8 AM service from Hanmer Springs and return on our 1 PM service from Christchurch on the same day.

Not in conjunction with other offers.
SuperGold Card holders pay only $45.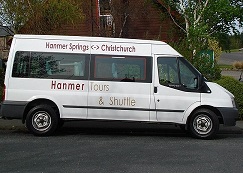 10 Tripper Hanmer Springs
Price:
$200
(until 31-05-2019)
[Normal price $280]
Ten single trips between Hanmer Springs and Christchurch.
Tickets valid in either direction.
Not valid for trips from/to Christchurch Airport, but $10 airport surcharge can be paid on the bus.
No expiry date on these tickets.
Tickets are not refundable.

Super Gold Card Holders Deal
Price: $25.00
One way travel between Hanmer Springs & Central Christchurch in either direction. $10 surcharge for Christchurch Airport pick ups/drop offs.
Direct bookings only, made by phone, email or online.
Not in conjunction with other offers.
Card must be presented when boarding the bus, otherwise normal full fare will be payable.